Samanvaya
The Festival of Togetherness
with
Padma Shri Narthaki Nataraj
in Bharatanatyam Margam Indian Classical Dance Repertoire
Date & Time:
Friday, May 26 at 7:00 PM to 9:00 PM
Venue:
Canadian Museum of History, 100 Laurier St, Gatineau, Quebec
https://goo.gl/maps/uCveP96UFb2zKTbR6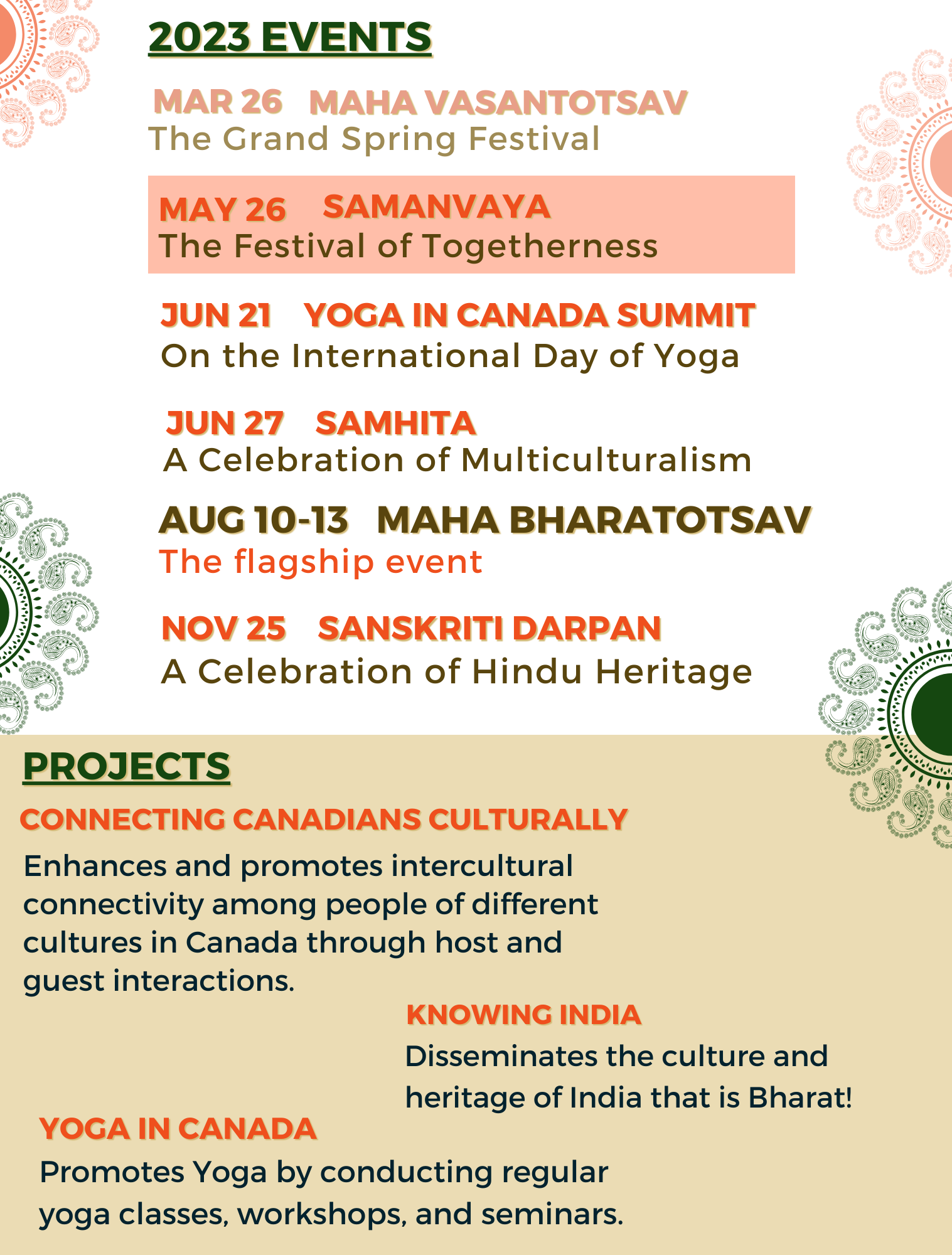 About the Artists
Dr. Narthaki Nataraj is a distinguished Bharatanatyam dancer and Guru from the State of Tamil Nadu in India. Born in Madurai, the heart of Tamil culture, she pursued formal training in Bharatanatyam from the late Guru Namanur Jeyaraman in the Thanjavur-tradition. Her perseverance in the tradition led Narthaki to the ancient city of Thanjavur, where she pursued traditional gurukula training from the renowned Guru Kittappa Pillai. She completed 15 years of the intense in-residency gaining scholastic prowess from the late Guru. With this legacy and as an ambassador of the Thanjavur-tradition of Bharatanatyam, Narthaki has been spreading treasured repertoires, temple mysticism, Tamil literature, and rare choreographic concepts at local, regional, and international arts and culture festivals. Together with her lifetime mentor-companion Ms. Shakthi Bhaskar, she established the Velliamballam Trust – School of Dance. She is popular world-wide among patrons, connoisseurs, scholars, and youth, especially those pursuing a study of Bharatanatyam. Narthaki's exemplary works have been well-acclaimed. Know more
1. Pay for Workshop with Credit Card
Dr. Narthaki Nataraj's Prominent accolades
2007 Kalaimamani Award – State Government of Tamil Nadu

2011 Sangeet Natak Akademi Award , Ministry of Culture Government of India

2016 Honorary Doctorate – Periyar Maniammai University, Thanjavur, Tamil Nadu

2017 Empanelled Outstanding Dance Artist Indian Council for Cultural Relations

2019 Padma Shri Award – India's 4th highest civilian award Government of India

2022 Nrithya Kalanidhi Award – The Madras Music Academy
Identifying as transgendered at the tender age of 10 years, Narthaki overcame numerous societal barriers. Her high standing in the world of arts and literature has contributed immensely to her overall success in society. She coined the word 'thirunangai' in Tamil, literally meaning the 'divine female', that has been officially adopted by the State Government of Tamil Nadu to designate 'transwoman'. Narthaki fosters an intersectional development programme by imparting Bharatanatyam training and opportunities to students from the LGBTQ2S and marginalized communities. Her inspirational life story is featured as a lesson in Tamil Nadu's State Board textbooks. Narthaki is an excellent scholar, orator, and speaker of Tamil literature. Her artistic and social status have earned her prominence, and currently Narthaki serves as an appointed Member of the Tamil Nadu State Development Policy Council.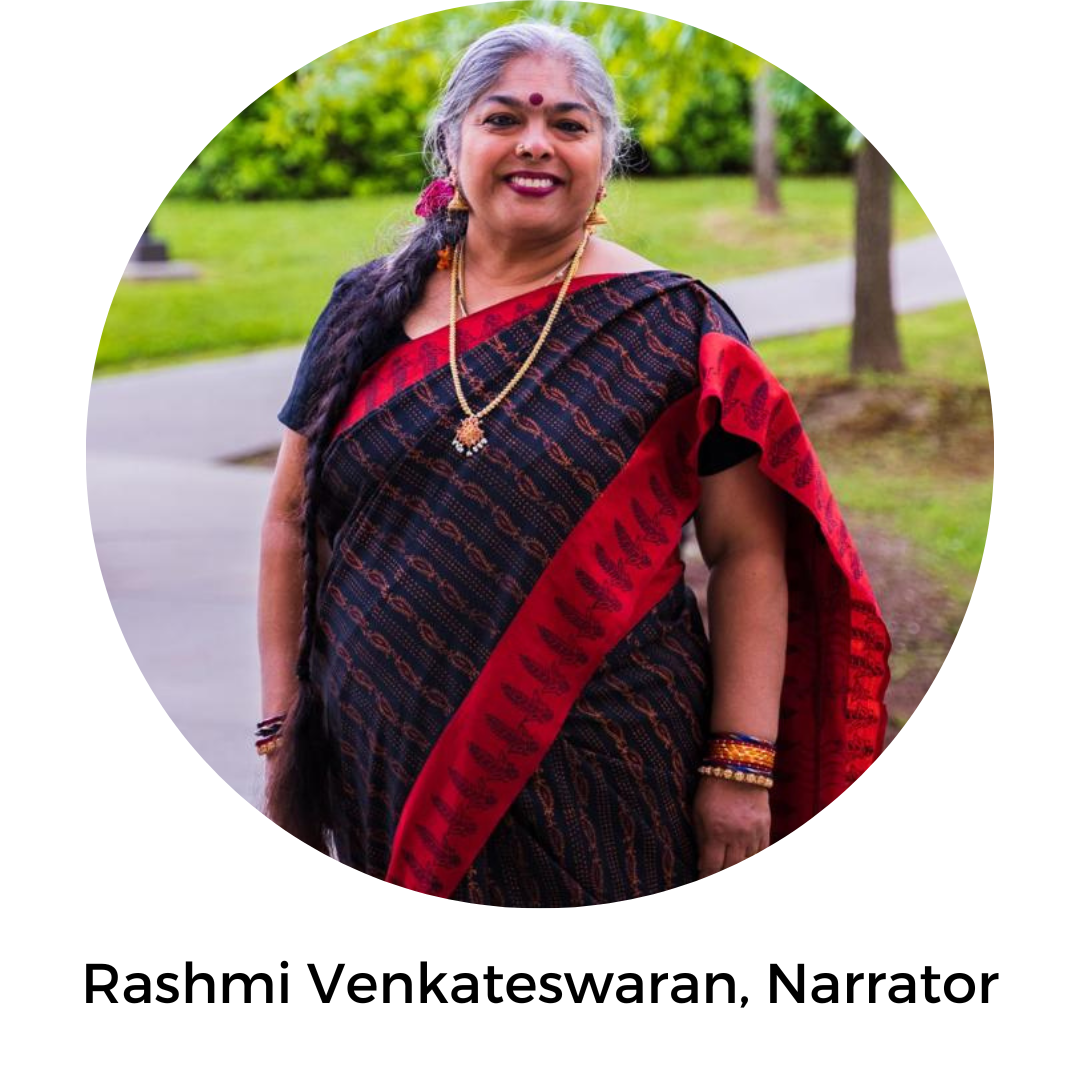 Rashmi Venkateswaran is an Ottawa-born academician and musician (Carnatic vocals) and a pioneer in advocating Indian classical art. Rashmi's pursuit of formal Carnatic vocal music began early in 1976 under the guidance of Guru Sri T.V. Gopalakrishnan (India). With an award from the Shastri Indo-Canadian Junior Performing Arts Fellowship in 1983, Rashmi embarked on intensive training under three reputed Carnatic musicians, notably with Guru D. K. Jayaraman of the D.K. Pattammal tradition. Following that, Rashmi received a second Shastri Fellowship and graduated with both a BA and MA in Carnatic music with honours from the University of Delhi.  She has a wide international experience in presenting Carnatic vocal concerts and music workshops, notable among them are a six hours-long concert in Rajapalayam (India) and a 2-day workshop organized by RAGAMALA in Saskatoon. Rashmi is versatile in her vocals and cuts across musical genres of Hindustani, devotional, Western jazz and light Indian classical music. Rashmi is deeply involved with fundraising and charity events, including the Bhawani Anantaraman Foundation of Canada. Rashmi holds a doctorate in physical chemistry and teaches at the University of Ottawa; she is a co-author of an essential undergraduate textbook, Introductory General Chemistry (McGraw-Hill Publishers).
Rashmi is a well-known personality in the arts, culture, and heritage scene in Ottawa and Montreal, and is a celebrity in the Indian diaspora. Rashmi brings her rich experience in hosting and facilitating events in English and French, as well as writing script and formally narrating the artistic context of Indian classical music and dance.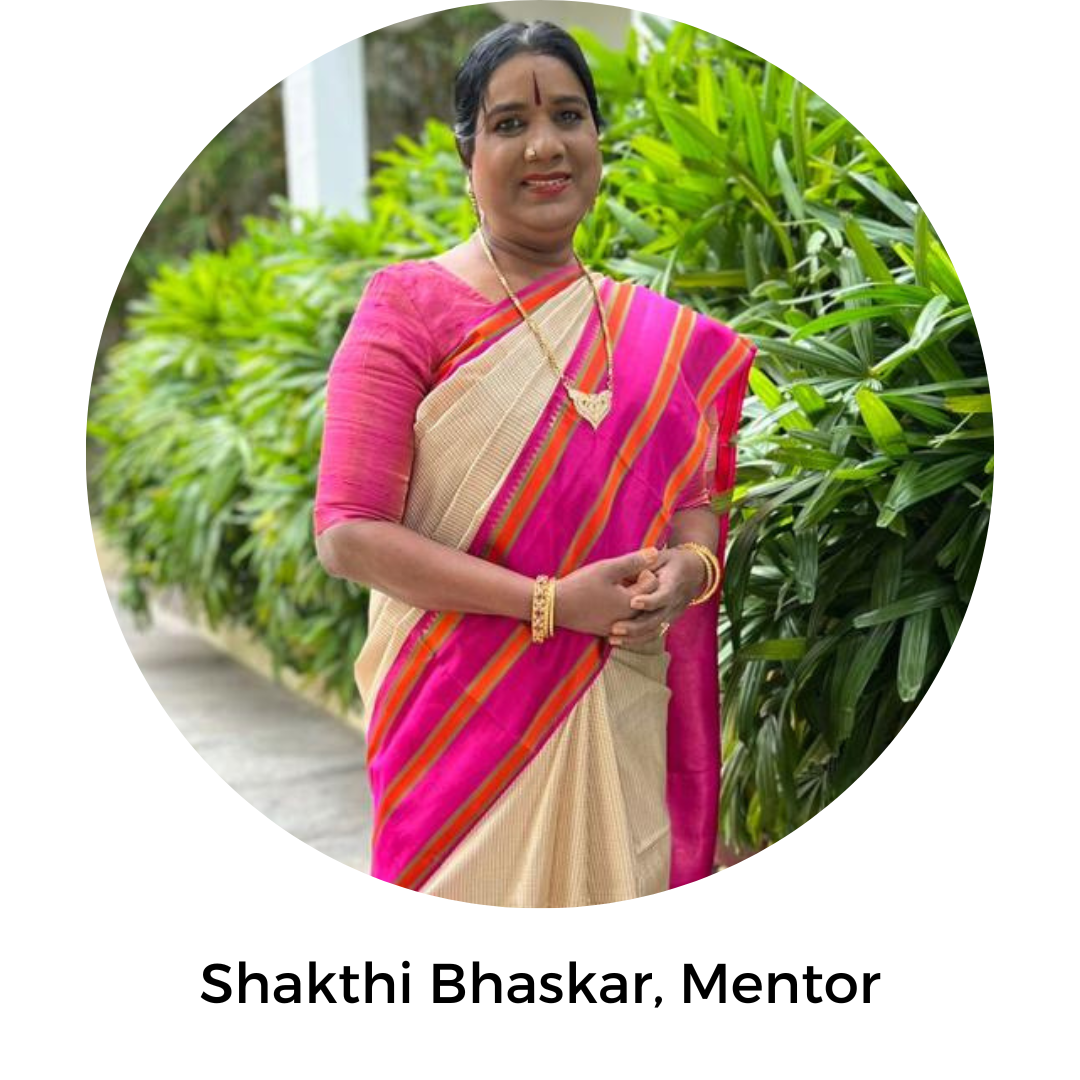 Hailing from Anupanadi, a village in Madurai in Tamil Nadu, Shakthi Bhaskar is a Bharatanatyam dancer, producer, and mentor. Together with her childhood friend Dr. Narthaki Nataraj, Shakthi studied Bharatanatyam under the tutelage of Guru Kittappa Pillai for 15 years in residence. Shakthi co-founded the Velliambalam Trust School of Dance in Chennai, where she functions as the mentor, teacher, and coordinator, and intrinsically contributes to Narthaki's artistic journey. Shakthi's role in Narthaki's success in the world of dance, including the latter receiving the Padma Shri Award, the 4th highest civilian award from the Government of India, is remarkable. Shakthi continues to provide new concepts, research, selecting poetry and lyrics, costume and set designing, choreography, nattuvangam, direction, and narration.

Shakthi has performed Bharatanatyam at many arts and community events in India and overseas. She is a recipient of the title Kalai Valarmani – meaning 'promoter of arts' from the Department of Arts and Culture, in the Government of Tamil Nadu. Shakthi is an avid reader of Tamil literature and poetry and is popularly sought for her Tamil recitation and oration. Shakthi recognized her transgendered status when she was 10 years old. Together with her close friend Narthaki, they embarked on a journey crossing and surmounting several social barriers, and have succeeded in society. Their stories are recounted in textbooks of the Tamil Nadu State School Board. Shakthi is an activist for LGBTQ2S rights and promotes inclusion and diversity.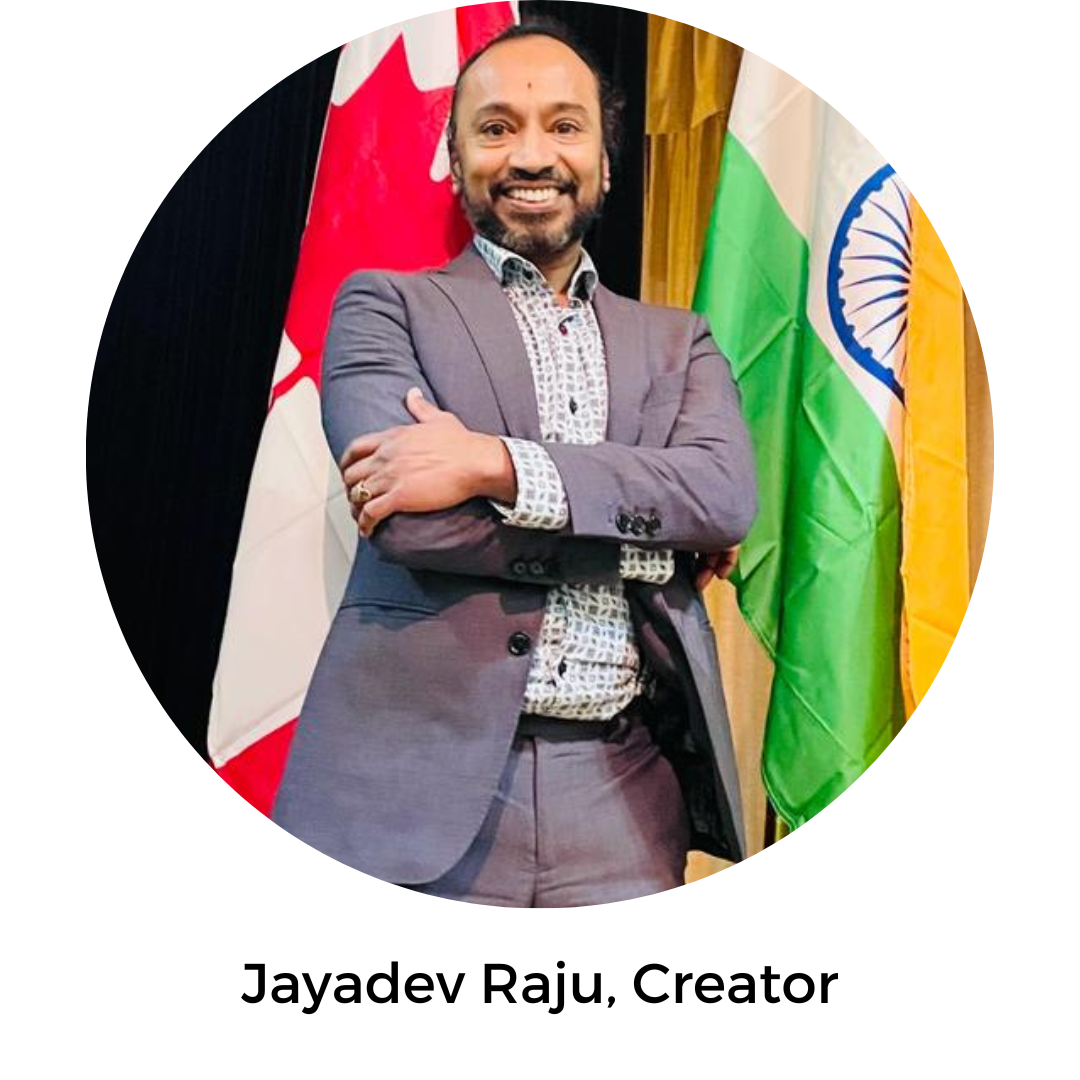 Jayadev Raju is an Ottawa-based freelance Bharatanatyam dancer. Trained in India by acclaimed Gurus, Jayadev has had the opportunity of performing for over 40 years. He moved to Canada in 1999 and made his artistic debut as a performer with Manohar Performing Arts of Canada, a Winnipeg-based, professional-caliber dance company. In addition to performing in Ottawa, Jayadev has been a co-organizer of community and arts/dance events, productions, and festivals, including the recent professional development workshop of the South Asian Dance Alliance of Canada in Ottawa. Notable performances were for the High Commission of India in Ottawa; productions of Upasana: The Spirit of Dance; The Great India Festival Ottawa; and the celebration of the Canada-150th Anniversary. Jayadev conceptualized and directed a thematic Indian classical dance film entitled Lokamata – the Universal Mother, funded by the City of Ottawa ARTicipate Grant. In 2021 and 2022, Jayadev created solo productions in the traditional Margam format and successfully staged well-curated poetry/hymns/songs with original commissioned music and choreographies for audiences in Ottawa. With years of practice, training, performances, and productions, Jayadev is established as a
Bharatanatyam artist in the Canadian arts, culture, and heritage hubs.
Jayadev continues to invest in deepening the understanding of Indian classical dance forms and is engaged in technical practice, choreographic exploration, conceptualizing ideas, translation of lyrics, promotion of the arts, facilitation of artistic collaborations, and dance critique – these are some of his areas of interest. Jayadev loves to foster transdisciplinary approaches in presenting various dance forms and is a tireless advocate for inclusion and diversity initiatives.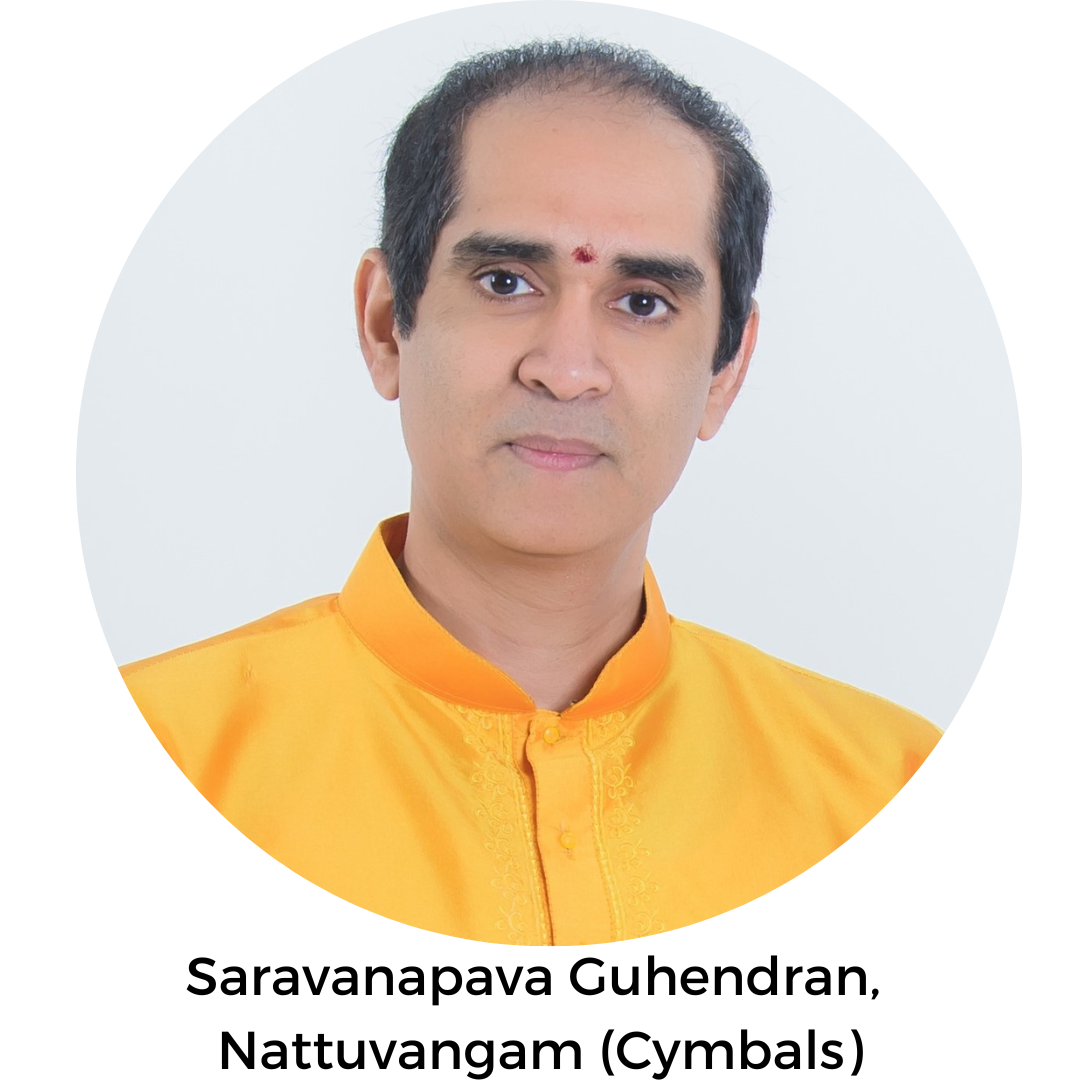 Guhendran is a Bharatanatyam exponent graduating from Bharatha Choodamani, the dance institute run by the legendary Guru (late) Adyar K. Lakshman in the Kalakshetra tradition. He holds Diplomas in both Bharatanatyam and Nattuvangam from Bharata Choodamani. Additionally, Guhendran received training in Nattuvangam from Guru Bhagavatulu Seetharama Sarma, Carnatic vocals from Guru Regi George, and the veena from Guru Chandrasekar in India. In 1995, Guhendran together with his wife and fellow Bharatanatyam dancer Smt. Lushanthini co-founded the Jegatheeswaralaya Fine Arts Training Centre in Canada. Based in Ontario, the institute has been conducting Bharatanatyam and Nattuvangam training, with 15 students completing their formal arangetram graduations, and produced several full-length dance dramas.
Guhendran holds several dance titles for his exemplary artistry, such as Natya Chelvan, Kaladharan, Navarasa Raman, Natya Sironmani as a dancer and Vageya Kishore as a lyricist. Guhendran collaborates with prominent dance artists and has travelled worldwide as a performer and choreographer, conducting dance programmes, and playing the nattuvangam.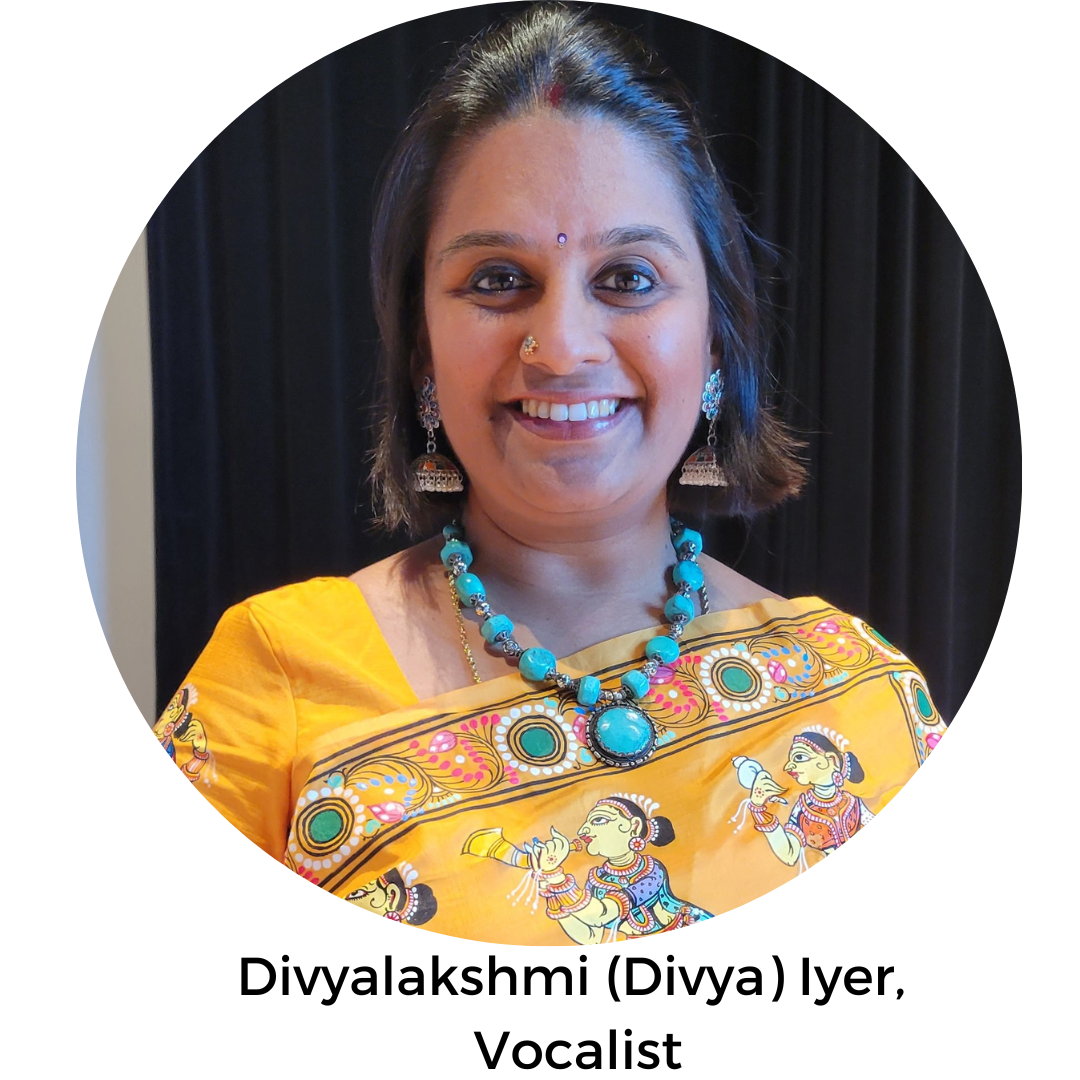 Divya is a Carnatic vocalist based in Montreal. Music has been Divya's main interest, pursuing her initial training with Subbhalakshmi Swaminathan in Mumbai. Gaining professional development through various gurus, currently Divya is training under the acclaimed Carnatic musician Raji Gopalakrishnan. Additionally, she has learnt Hindusthani music of the north Indian classical genre as well as Western music. Divya has performed extensively in all three music genres demonstrating a strong versatility as a vocalist. Divya was among the Top 10 Finalists at the Red Fm Idol held at Calgary in 2019. She is multitalented and has acted in the movie Outsourced. Divya has worked with the legendary Indian singer's SP Balasubramaniam. Divya has also performed at The Great Festival of India (Ottawa) and Festival Orientalys (Montreal).
Divya sings in multiple languages including English, Hindi, Marathi, Tamil, Malayalam, Kannada and Telugu. She presented the song "Lullaby" from the movie Life of Pi at the prestigious Regina Symphony Orchestra. Divya released her own original Tamil R&B singles Thaeduvaen and Oru Murai Vaazhalaam. As a lead vocalist, Divya is currently working with Bharatanatyam dancers for their solo and group performances. Apart from music, Divya is actively involved in the organization of festivals and artistic event and in promoting arts. She is closely associated with Montreal's premier south-Asian arts organization – the Kabir Centre for Arts & Culture. Divya's artistic journey is filled with many awards and accolades.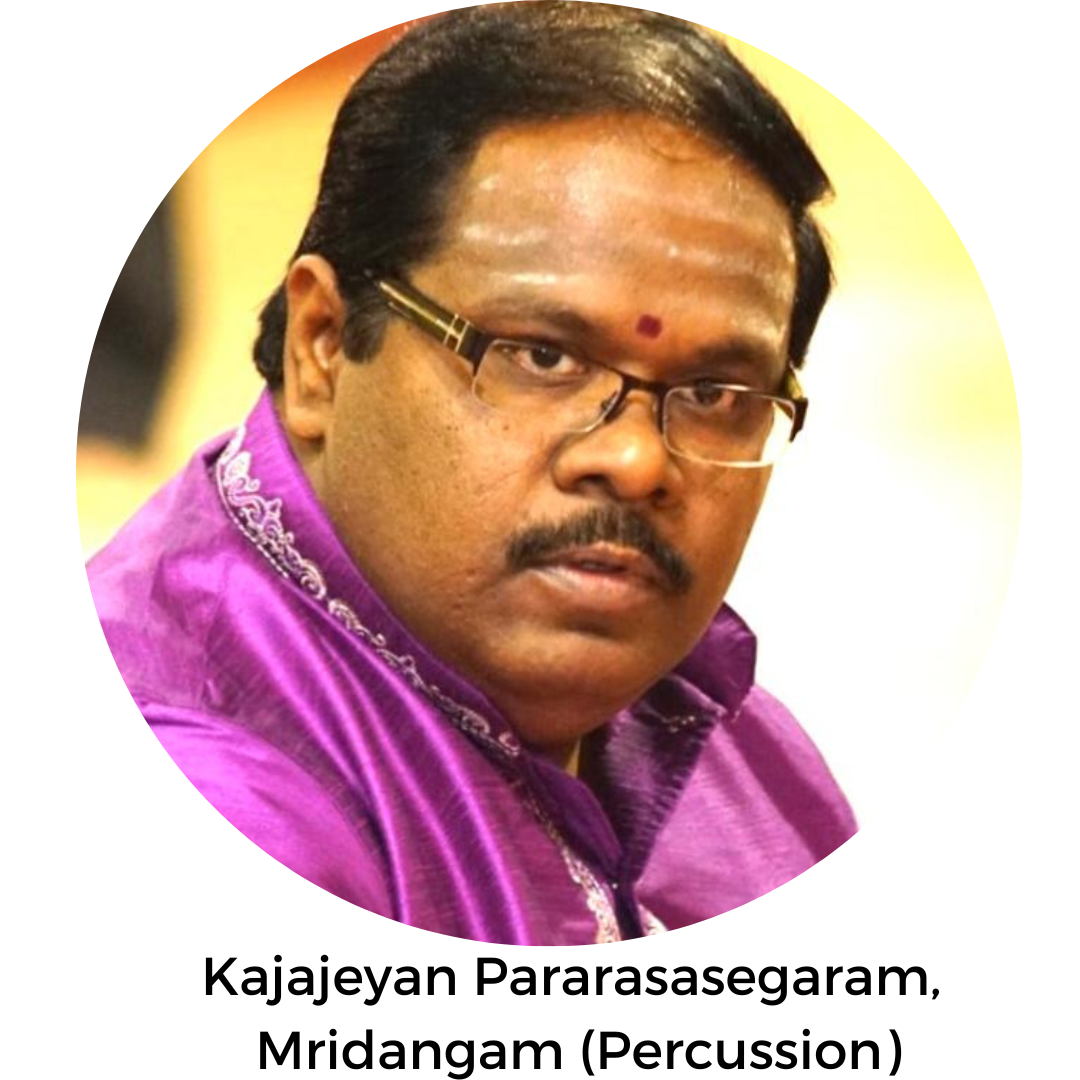 Kajajeyan received his initial Mridangam training from the Maestro Kalaboosanam P. Sinnarajah in SriLanka. Kajajeyan is a senior disciple of the Maestro Dr. Gowrishankar Balachandran and has received advance training from Sangeetha Kalanidhi Dr.Thiruvaarur Bakthavathsalam.
A popular mridangam artist, Kajajeyan has accompanied many leading artists in Canada, USA, India and Sri Lanka such as Kalaimamani P. Unnikrishnan, Sangeetha Kalanidhi Neyveli Santhanagopalan, Kalaimamani Geetha Rajashekar, Maharajapuram Ramachandran, Kalaimamani Maharajapuram Srinivasan and Veena Vidwan Rajhesh Vaidya. In addition, Kajajeyan regularly performs with inDance, a Toronto-based dance organization, and other dance institutes internationally, and is a sought-after mridangam artist for dance arangetrams. Sri Varasiththi Vinaayager Hindu Temple of Toronto has honored him with the title of Laya Gnana Mani.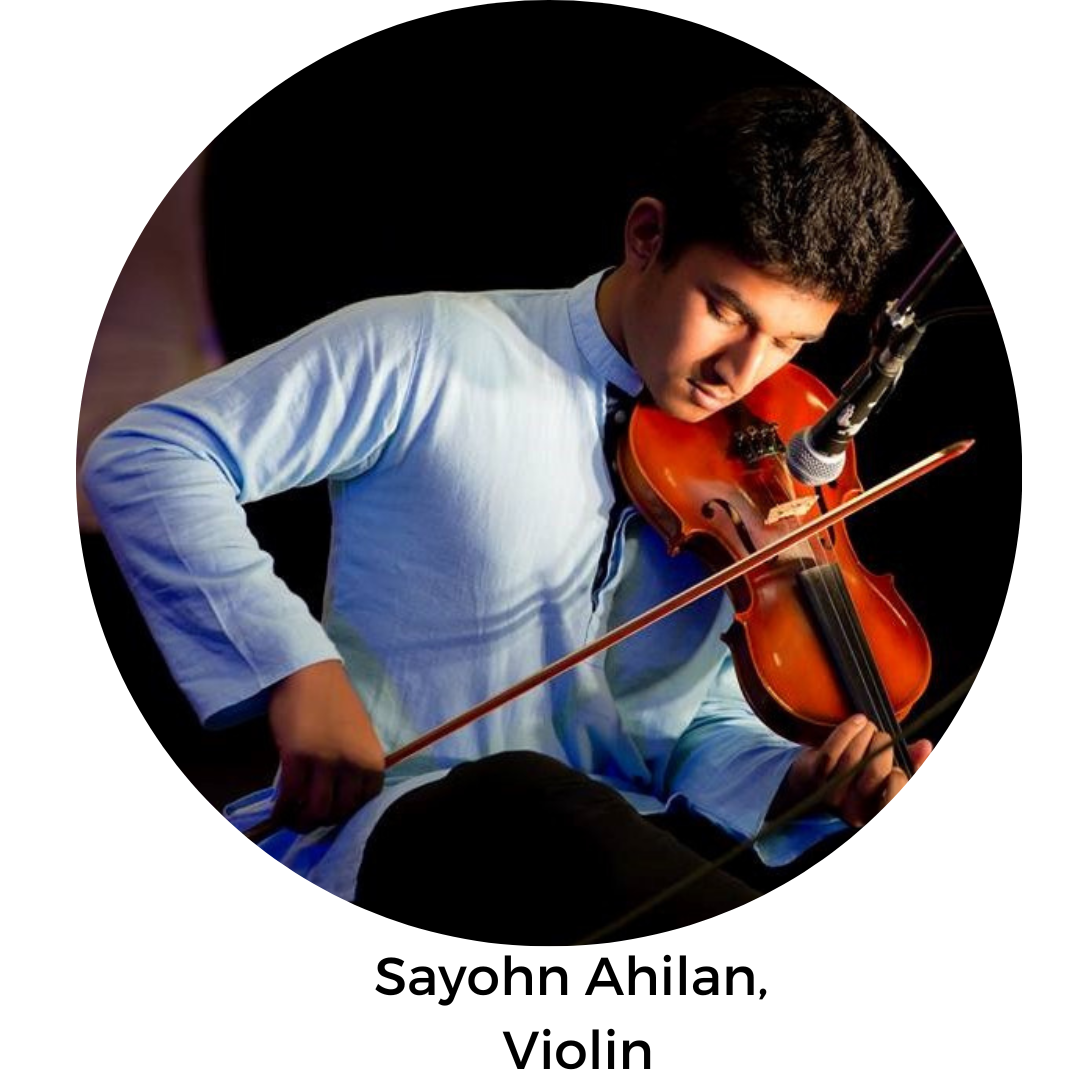 Sayohn Ahilan began his footsteps in the world of Carnatic music at a very young age learning the violin under the tutelage of Vijayalakshmi Ganesan in Ottawa. Sayohn is currently under the mentorship of Dr. Anjana Srinivasan and Madurai Vijayaganesh.
Sayohn has had training under renowned violinists – Lalgudi Vijayalakshmi, Lalgudi Krishnan, and VVS Murari, and has accompanied leading artists such as Thiruvarur Girish.
Sayohn has pursued Carnatic vocal music under the tutelage of Bala Narasimhan in Ottawa. Currently, in his fourth year as a Systems Design Engineering student at the University of Waterloo, Sayohn aims to be a professional with parallel careers in music and engineering.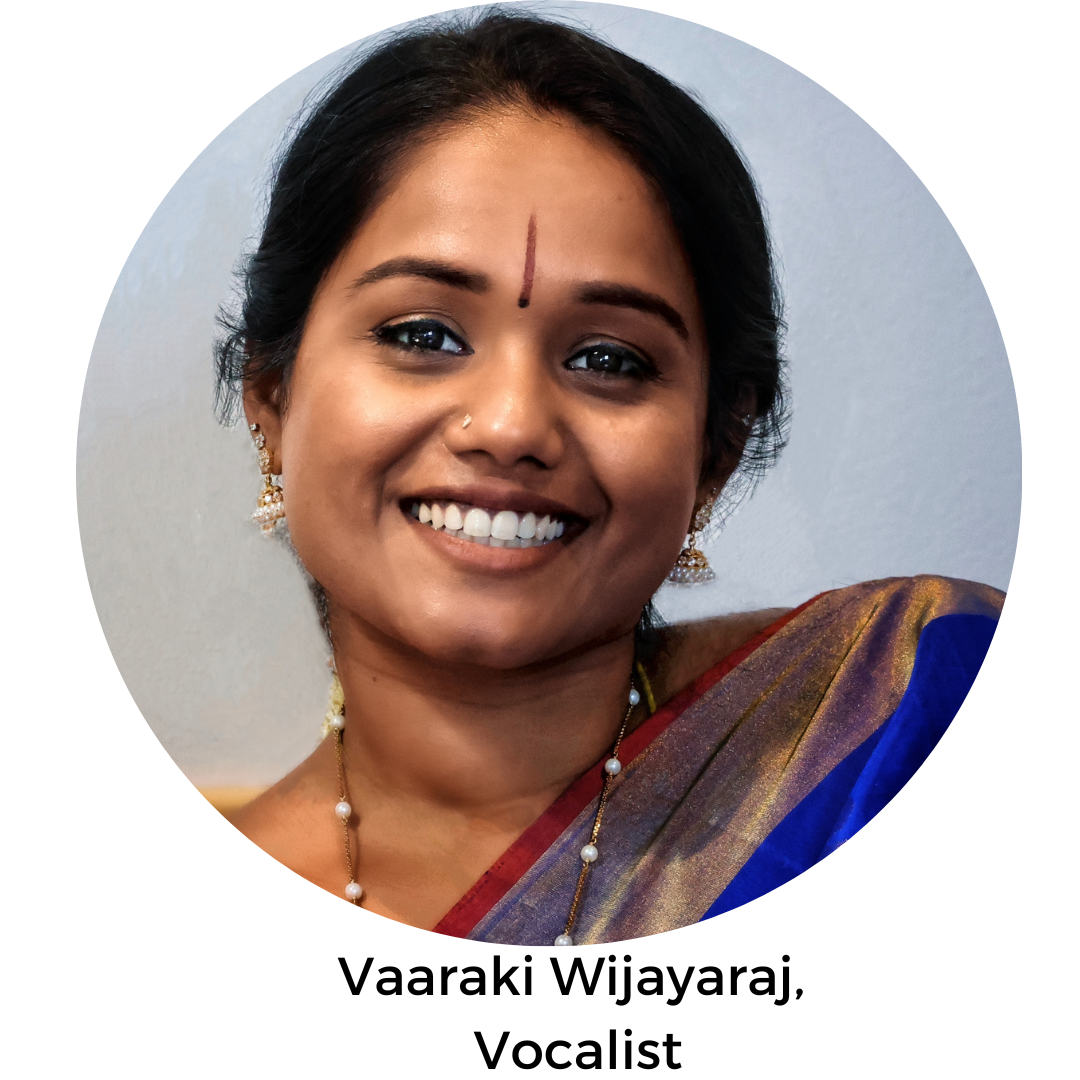 A leading Toronto-based Carnatic vocalist, Vaaraki has been performing for over 2 decades at prestigious international venues, including at the famous Madras (Chennai) Margazhi music season festivals in India. She is a recipient of the Shri Parthasarathy Swami Sabha's Best Performer Award and the title of Yuva Kala Vipanchee from Vipanchee Fine Arts, both presented by the legendary Carnatic vocalist Late Dr. M. Balamuralikrishna. Vaaraki began training in Carnatic music and Bharatanatyam dance under the tutelage of Dr. Alakananda Nath in Toronto. Since 2001, she has been mentored by Smt Raji Gopalakrishnan in Carnatic vocal. She continues to be a lead singer in Bharatanatyam concerts/productions and has over 15 years of experience as a lead vocalist for arangetrams. Her diversity is complimented by formal graduations in mastering Carnatic instrumental violin under Shri VVS Murari and Shri VV Subramanyam, and the mridangam (percussion) under Shri B. Gowrishankar.
Vaaraki's pursues a parallel career as a Case Manager in the Inpatient Adult Psychiatric Unit at Michael Garron Hospital in Toronto, providing counselling, advocacy, support, guidance and coordination for patients and their families and caregivers as they navigate the recovery journey from acute psychiatric crisis to stabilization and reintegration into the community.